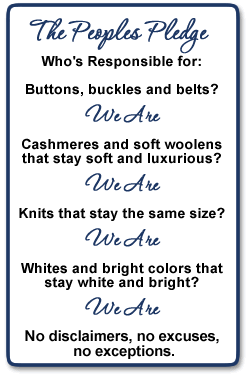 Since 1935 Peoples Professional Cleaners has offered exceptional dry cleaning and laundry services to people who truly care about their clothes. There is nothing ordinary about Peoples Professional Cleaning Services.
General Client Services:
We inspect every item before and after cleaning to ensure everything is done to satisfy you – our customers.
We read every label and examine every item before determining the best possible method to clean.
We offer no disclaimers and no excuses for our work. We take responsibility for how your items are returned.
Apparel / Garment Services
From general dry cleaning to machine-wash or hand-wash laundry, Peoples brings together the latest technology with years of experience for the cleanest and most well cared for garments possible. Clothing cleaned at Peoples will look better and last longer than those cleaned anywhere else. No request is too small for Peoples to clean.
Dry Cleaning
Executive shirt services

Wash & fold services

Hand washing

Military & Medical Uniforms

Leather & Suede trim

Wedding & evening gowns

Religious garments
Ugg Boots / Ugg Type Boots
We now clean Ugg Boots! The process involves specialized soaps and conditioners to clean Ugg Boots so that the leather does not shrink or lose color or feel. Air drying and conditioning is done after cleaning and then stain and water repellent can be applied as an optional service. Call us today to for more details on cleaning Ugg Boots.
Specialty & Household pieces
Unlike other dry cleaners, Peoples Cleaners does not have to "job out" special items or requests. Our plant is staffed and equipped with state of the art resources that allow us to handle almost any item you bring in. Other cleaners trust us to do specialty work for them, so can you! We're happy to clean your:
Sequins, specialty buttons, and beaded apparel

Wedding dresses (cleaned, pressed and/or preserved)

Leather, suede and fur items

Draperies and curtains

Riding apparel

Reenactment uniforms

Down comforters, down pillows, and other bedding

Tablecloths, napkins, and other linens

Costumes & mascots

Museum-quality antique restorations

Clean and repair horse blankets/sheets and saddle pads
Commercial Accounts
Peoples has the unique ability to service any size job in a timely fashion. From the pastor that needs vestments cleaned weekly to a French Naval vessel that pulls in needing 700 sheets cleaned, we have the equipment and the personnel to do the job.
Ship laundry and linen services

Military & Medical uniforms

Religious vestments