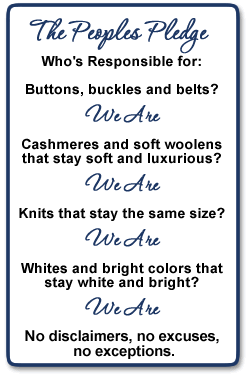 Peoples Professional Cleaners offers specialized dry cleaning and laundry services for victims of disasters such as flood or fire. Our goal is to help you restore your personal items and make the process as seamless and simple as possible.
Our team will come to your home to empty linen closets, strip bedding and more — whatever it takes to pick up and restore your "washable" and dry-cleanable items, including draperies, stored clothing, personal items such as purses, shoes and even stuffed animals.
Smoke, fire, and water damage can be difficult to treat, but Peoples Cleaners has specialized equipment and facilities that can help reclaim what you may have thought lost.
Our Ozone room is lined with racks and shelving, and removes smoke and other organic smells such as mildew, from your damaged items. A specialized blend of ionized air releases the smells clinging to your items, and draws those odors out of the room.
We suggest you first contact your insurance agent to determine the extent of your coverage. Then remember – you can choose your own clothing restoration service. We hope you'll choose Peoples.